Subscribe to the Zog Blog to get news Delivered straight to Your box!
Recent Posts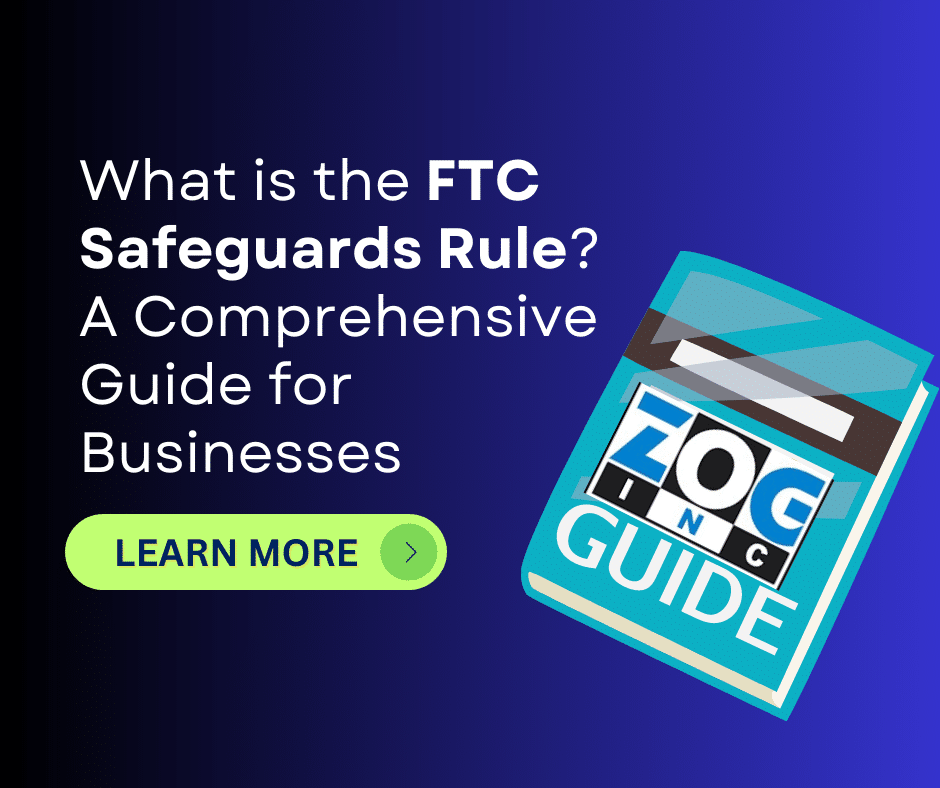 What is the FTC Safeguards Rule? A Comprehensive Guide & Bonus Incident Response Plan Template for Businesses
The Federal Trade Commission (FTC) Safeguards Rule is a critical regulation for businesses in the financial sector, and with a quickly approaching compliance deadline of June 9th, 2023, the countdown is on for many businesses. With steep penalties for noncompliance, organizations falling within the ambit of the rule must understand its requirements and implement the necessary measures to ensure adherence.
In this guide, we'll explore the FTC Safeguards Rule and provide a robust checklist that will serve as a roadmap to help your business achieve timely compliance.
What is the FTC Safeguards Rule?
The FTC's Standards for Safeguarding Customer Information (Safeguards Rule for short) was enacted as part of the Gramm-Leach-Bliley Act and pertains to US-based financial institutions. The rule ensures financial institutions develop, implement, and maintain comprehensive cybersecurity programs, specifically designed to protect customer data.
The Safeguards Rule was initially introduced in 2003, in response to the growing need for standardized, regulatory oversight of the handling and protection of consumer financial information. Guidelines detailed under the rule are meant to safeguard the privacy of consumers while maintaining the trust and integrity that form the bedrock of the financial sector.
In 2021, the FTC updated the Safeguards Rule to better align with the developments in modern technology and the ever-evolving threat landscape. As technology advanced and cybersecurity threats grew in complexity and volume, it became increasingly clear that the rule needed to be revisited. The update expanded the requirements for financial institutions, focusing more on areas like encryption, multi-factor authentication, and incident response mechanisms, to name a few.
Noncompliance with the FTC Safeguards Rule can have serious consequences. Financial institutions may face substantial fines, with amounts escalating based on the severity and duration of noncompliance. Legal repercussions could also include class-action lawsuits brought by affected customers. In extreme cases, individuals responsible for noncompliance may face imprisonment. These stringent penalties reflect the significant responsibility financial institutions carry in protecting sensitive customer data.
Given the potential penalties and the vital importance of securing customer data, understanding and complying with the FTC Safeguards Rule should be a priority for all businesses within the scope of the GLBA. Doing so not only fulfills legal obligations but also helps institutions maintain customer trust by demonstrating a robust commitment to data security.
Who Needs to Comply with the FTC Safeguards Rule?
The term "financial institution" as defined by the FTC is broader than its conventional usage. It covers organizations significantly engaged in financial activities or activities incidental to financial services. Some examples of financial institutions, as per the FTC, include:
Mortgage lenders
Payday lenders
Finance companies
Mortgage brokers
Account servicers
Check cashers
Wire transferors
Collection agencies
Credit counselors and financial advisors
Tax preparation firms
Non-federally insured credit unions
Investment advisors not required to register with the SEC
Retailers providing store credit cards
As businesses evolve, it's essential to consult the FTC's definition of a financial institution periodically to determine if your organization falls under its purview.
Key Requirements of the FTC Safeguards Rule
The FTC Safeguards Rule outlines a series of administrative, technical, and physical safeguards that businesses must implement to protect customer information. Here are the main requirements your organization should adhere to:
1. Designate a Qualified Individual
Appoint either an employee or external service provider as a qualified individual. This individual will oversee and ultimately supervise the implementation of your company's cybersecurity programs. If you're outsourcing this role, you must still appoint an internal representative who is then responsible for supervising the managed security services provider.
2. Conduct a Written Risk Assessment
Your written risk assessment is a process for identifying and evaluating potential risks that have potential to result in the compromise of customer data. This risk assessment is a critical first step in developing a robust cybersecurity program and typically involves the following steps:
Identification of Risks
Begin by identifying reasonably foreseeable internal and external risks. This could include threats like malicious insiders, cyberattacks, natural disasters, system failures, or third-party service providers. Keep in mind the customer data you host as well as how you store, process, and transmit it.
Evaluation of Current Safeguards
Next, evaluate the sufficiency of your current safeguards in controlling these risks. This involves examining your existing information security policies, procedures, and controls, and assessing how effectively they are managing the identified risks.
Risk Impact and Likelihood Assessment
For each risk, assess its potential impact on your organization and the likelihood of its occurrence. This will help you prioritize your resources and focus on the most significant risks.
Documentation
Finally, document your risk assessment. A written risk assessment not only meets the FTC Safeguards Rule's requirement but also serves as a valuable reference for designing your information security program and demonstrating compliance.
Risk assessments are not a one-time event. Conduct them regularly.
3. Design and Implement Safeguards
Implement safeguards to control the risks identified through your risk assessment. The FTC Safeguards Rule outlines specific measures your organization must take, such as:
Implementing and periodically reviewing access controls
Encrypting customer information on your system and when in transit
Assessing your apps
Implementing multi-factor authentication for accessing customer information
Disposing of customer information securely
Anticipating and evaluating changes to your information system or network
Maintaining a log of authorized users' activity and monitoring for unauthorized access
4. Regularly Monitor and Test Safeguards
Periodically monitor and test the effectiveness of your safeguards, including the detection of actual and attempted attacks. Conduct annual penetration testing, system-wide vulnerability assessments, and tests after significant changes to your operations, business arrangements, or when new threats emerge.
5. Train Your Staff
One of the most essential components of implementing the FTC Safeguards Rule (and cybersecurity in general) is training your staff adequately and regularly. Employee training should be continuous and ensure staff is up to date on threats and best practices.
Security Awareness Training
Start by providing basic security awareness training for all your employees that covers cybersecurity fundamentals like password best practices, phishing email simulation, and how to properly handle different types of customer data. Remember, humans are often the root cause of cybersecurity incidents and it's important employees understand the role they play in securing customer information.
Regular Refresher Courses
Security threats evolve over time, and as such, your staff's knowledge must evolve too. Regular training ensures employees have up-to-date knowledge and can remain vigilant against current and emerging threats. Depending on the pace of change in your industry, refresher training might be necessary more often.
Specialized Training
Not all employees need the same level of knowledge about information security. Employees with hands-on responsibilities like implementing cybersecurity programs will need more in-depth understanding and should receive highly specialized and targeted education that goes beyond the basics.
Moreover, the FTC Safeguards Rule also encourages businesses to consider the need for training in their risk assessment. Identifying the areas where employees need further knowledge or skill reinforcement will help in tailoring the training program to the business's specific needs.
Lastly, it's important to document training sessions. Include attendee information, topics covered, and when and where the training took place. This documentation will serve as proof that your company has been proactive in its efforts to comply with the FTC Safeguards Rule.
Remember, the primary goal of all this training isn't just regulatory compliance. A well-trained staff can be one of your most effective defenses against information security breaches.
6. Monitor Your Service Providers
Select service providers with the skills and experience to maintain appropriate safeguards. Ensure your contracts specify security expectations and provide mechanisms for monitoring their performance and reassessing their suitability.
7. Keep Your Information Security Program Current
Continuously update your information security program to accommodate changes in operations, emerging threats, personnel, and other circumstances that may impact your program.
8. Create a Written Incident Response Plan
Develop a written incident response plan to address security events resulting in unauthorized access to or misuse of information stored on your systems or maintained in physical form.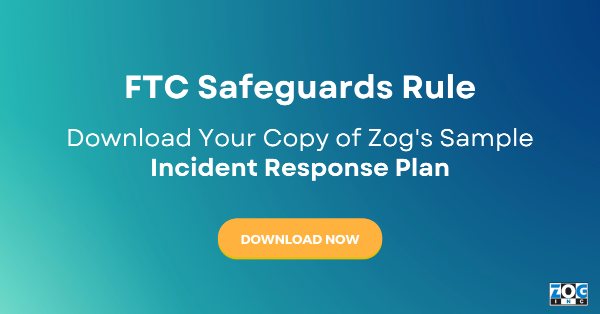 9. Require Reporting to the Board of Directors
The qualified individual overseeing your information security program must report their findings, at least annually, to your organization's board of directors or equivalent governing body.
FTC Safeguards Rule Compliance Checklist
To help your business achieve compliance with the FTC Safeguards Rule, consider using the following checklist:
Risk Assessment
Identify reasonably foreseeable internal and external risks to the security, confidentiality, and integrity of customer information.
Assess the sufficiency of any safeguards in place to control these risks.
Evaluate and evolve your cybersecurity programs in light of relevant changes to your business or industry, such as changes in technology, customer data, or business operations.
Designated Coordinator
Designate one or more employees to coordinate your information security program.
Security Program
Design and implement an information security program to address the identified risks.
Regularly monitor and test the effectiveness of key controls, systems, and procedures of the information security program.
Service Provider Arrangements
Take reasonable steps to select and retain service providers capable of maintaining appropriate safeguards for customer information.
Require service providers by contract to implement and maintain such safeguards.
Adjustments
Evaluate and adjust your information security program in light of the results of regular testing and monitoring, changes to operations or business arrangements, or any other circumstances that may impact the security of customer information.
Training
Implement a security awareness training program for all employees.
Schedule regular refresher courses and offer specialized training for those responsible for implementing your information security program.
Incident Response Plan
Develop a written incident response plan to address security events resulting in unauthorized access to or misuse of customer information.
Access Controls
Develop and implement a plan to control access to customer information based on job roles.
Implement secure user authentication protocols, secure access control measures, and restrict access to physical locations containing customer information.
Network and Software Design
Incorporate secure network and software design elements in your systems.
Regularly test and update security of your network and software.
Information Disposal
Properly dispose of customer information in a way that ensures it cannot be read or reconstructed.
Remember to keep your checklist dynamic and continually review and update it as your organization, technology, and regulations evolve. It's also a good practice to document all the actions you take to comply with the FTC Safeguards Rule, including risk assessments, changes to your information security program, and staff training sessions.
Conclusion
Compliance with the FTC's Safeguards Rule is essential for businesses in the financial sector. By understanding the rule's requirements and implementing necessary safeguards, organizations can protect customer information and avoid the costly consequences of noncompliance.
As a managed IT services company, we provide compliance-related services and can help your business navigate the complexities of the FTC Safeguards Rule. Contact us today to learn more.
---
Leave a Comment
Your email address will not be published. Required fields are marked *